Providing technical assistance to support youth and young adults with disabilities and their Families during Transition
learn more about our work
Plain Language Made It Easy
RAISE and PEATC collaborated to develop this resource guide and video in English and Spanish to assist people in making their documents accessible to everyone.
Readable Print
These resource provide information on how to make printed text the most visually accessible.
Creating Readable Print Materials 

 explains the rules that will make text readable for everyone, including people with reading, language, or visual disabilities and their families.*
Stay Up To Date with RAISE
 The Standard Newsletter is the official publication from RAISE.
In this issue of RAISE The Standard, we explore the entrepreneurial spirit of starting a business.
In this issue of RAISE The Standard we explore addictions and substance use disorders, and their impact on youth with disabilities.
In this issue of RAISE The Standard, we explore the intersection of public benefits, earned income and personal finance, and the complex balance needed to achieve and preserve financial wellness.
Sign up for The Standard Newsletter and other useful RAISE resources and information.
RAISE hosts a number of engaging and informative webinars and events through out the year. We invite you to join us for professional development, virtual learning, networking and more.
During this fun and engaging session, Katy Albert will give you the tools to take your social media presence to the next level. The session will include a review of the rise and roles of social media, an overview of best practices and platform accessibility, and more.
Date: Monday, Feb. 28, 2022
Time: 2pm ET
This session will provide a basic overview of the services available from the vocational rehabilitation system for people with disabilities. It will cover eligibility, developing the Individualized Plan for Employment, available services, and financial factors to consider.
From an "insider's" perspective, our blogs feature articles from Director, Josie Badger and occasional guest bloggers on transition-related issues.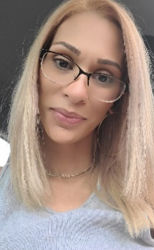 My name is Noemi Gonzalez and I am a mother of 4 and I am presently working towards a degree in addictions psychology with a minor in political sciences. I am partnered with several organizations, and I am an activist supporting the rights of individuals...