Providing technical assistance to support youth and young adults with disabilities and their Families during Transition
learn more about our work
Stay Up To Date with RAISE
 The Standard Newsletter is the official publication from RAISE.
This issue of RAISE The Standard focuses on emergency preparedness for people with disabilities at home, at work, and at school.
In this issue of RAISE The Standard, we focus on youth empowerment. When youth are empowered, they have the skills, critical awareness, and opportunities to positively impact their own lives and their communities.
In this issue of RAISE The Standard, as the second COVID-19 school year comes to an end, many parents and school leaders are asking whether students have met the goals and objectives in their Individual Education Program (IEP).
Sign up for The Standard Newsletter and other useful RAISE resources and information.
RAISE hosts a number of engaging and informative webinars and events through out the year. We invite you to join us for professional development, virtual learning, networking and more.
Professionals and organizations are continuing to make strides in working with youth instead of around them. In support of this movement, RAISE has developed a second series of toolkits meant to provide Parent Center professionals with a framework for how to approach programming centered in youth empowerment.
The importance of diversity, equity, and inclusion is currently at the forefront of the corporate world today yet frequently excludes accessibility and inclusion of people with disabilities in the digital space. There are over 1 billion people in the world with disabilities, and it is crucial that the technology used within industry is not only accessible but also usable by this population.
In this 2-part webinar, the American Foundation for the Blind will discuss some of the basics of accessibility and usability, and we will provide some demonstrations with some powerful assistive technology used by people with disabilities, including what they are carrying around in their own pockets.
Date: Monday, Sept. 20
Time: 2pm
Date: Monday, Sept. 27
Time: 2pm
From an "insider's" perspective, our blogs feature articles from Director, Josie Badger and occasional guest bloggers on transition-related issues.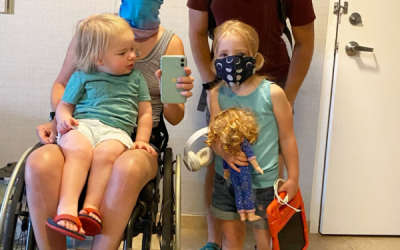 What I didn't know then: Wildfire displacement as a wheelchair using parent, by Alex Wegman I've always understood that access and independence are fluid and mean different things for different people. What's modified for my access might create barriers for another...