Providing technical assistance to support youth and young adults with disabilities and their Families during Transition
learn more about our work
Plain Language Made It Easy
RAISE and PEATC collaborated to develop this resource guide and video in English and Spanish to assist people in making their documents accessible to everyone.
Readable Print
These resource provide information on how to make printed text the most visually accessible.
Creating Readable Print Materials 

 explains the rules that will make text readable for everyone, including people with reading, language, or visual disabilities and their families.*
Stay Up To Date with RAISE
 The Standard Newsletter is the official publication from RAISE.
In this issue of RAISE The Standard, we explore the intersection of public benefits, earned income and personal finance, and the complex balance needed to achieve and preserve financial wellness.
This issue of RAISE The Standard focuses is focused on real employment. Get ready to learn more about competitive jobs, integrated settings, and real wages. It's the "gold standard" of transition outcomes for students with disabilities.
This issue of RAISE The Standard focuses on emergency preparedness for people with disabilities at home, at work, and at school.
Sign up for The Standard Newsletter and other useful RAISE resources and information.
RAISE hosts a number of engaging and informative webinars and events through out the year. We invite you to join us for professional development, virtual learning, networking and more.
This session will provide a basic overview of the services available from the vocational rehabilitation system for people with disabilities. It will cover eligibility, developing the Individualized Plan for Employment, available services, and financial factors to consider.
Date: Monday, Jan. 24, 2022
Time: 2pm ET
Presenters:
Ron Hager, Managing Attorney for Education and Employment, National Disability Rights Network (NDRN)
Ron Hager is a Senior Staff Attorney at the National Disability Rights Network in Washington, DC. Ron provides training and technical assistance to the P&A/CAP network on special education and assists in overseeing training and technical assistance to CAP. He has specialized in disability law, particularly special education, since 1979, when he started his legal career in Buffalo as a VISTA attorney. After that, he was a Clinical Professor at the State University of New York at Buffalo Law School for nine years, supervising the Education Law Clinic. In 1991, Ron moved to Neighborhood Legal Services (NLS) where he represented clients in a wide variety of disability-related cases. As part of NLS's National AT Advocacy Project, Ron also was a frequent author on disability-law-related issues. He was co-chair of the New York State Bar Association's Committee on the Rights of People with Disabilities for four years, and was the President of the Board of Directors of Autistic Services, Inc., in Western New York, for 10 years. Ron earned a B.A. in Psychology from the State University of New York at Binghamton and a J.D. from the State University of New York at Buffalo Law School.
Amy Scherer, Senior Staff Attorney for Vocational Rehabilitation
Joining NDRN in December 2009, Amy Scherer provides training and technical assistance to the P&A network on issues related to Vocational Rehabilitation and the Client Assistance Program. She is a member of NDRN's employment team which focuses on a variety of issues related to helping individuals with disabilities achieve competitive wages and integrated jobs in the community. Prior to arriving at NDRN, Amy worked for seven years at a vocational training facility for individuals with a variety of disabilities in Atlanta, Georgia. She worked primarily with VR clients as both a case manager and as a certified vocational evaluator. Amy earned a B.A. in Psychology from Furman University, an M.S. in Rehabilitation Counseling/Vocational Evaluation from Auburn University, and a J.D. from the St. Louis University School of Law.
Amy happens to be wheelchair user which has contributed to her strong interest in the areas of vocational rehabilitation and employment law. She wholeheartedly believes that all people with disabilities are capable of working in the community. The keys are appropriate job matches as well as the effective implementation of reasonable accommodations.
ASL interpretation & Spanish interpretation will be offered!
Aligning advocacy activities with an often-changing transition landscape can be a challenge for parent training professionals. Providing effective supports to families requires moving away from traditional compliance-based strategies and moving towards an approach that treats transition as a very human, lifespan activity. This webinar will highlight various ways parent advocacy professionals can adjust and improve their transition supports to families, including examining the pitfalls of systems-based thinking, weaving transition into a continuum of advocacy services, and using a lifespan approach to help families embrace transition sooner.
From an "insider's" perspective, our blogs feature articles from Director, Josie Badger and occasional guest bloggers on transition-related issues.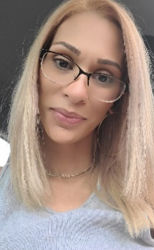 My name is Noemi Gonzalez and I am a mother of 4 and I am presently working towards a degree in addictions psychology with a minor in political sciences. I am partnered with several organizations, and I am an activist supporting the rights of individuals...